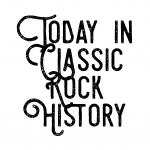 March 9, 1971, Led Zeppelin appeared at Leeds University in England during their 'Back To The Clubs' tour, the tour that saw the band performing 'Stairway To Heaven'.
March 9, 1976, Keith Moon, drummer for The Who, collapsed on stage during a show in Boston. Initially, the band claimed he was ill with the flu, but it was later confirmed he had mixed alcohol and drugs. They were booed off the stage by the sold out, 15,000 crowd.
March 9, 1985, REO Speedwagon began a three week run at No.1 on the singles chart with 'Can't Fight This Feeling'.
March 9, 1987, U2 released the heavily American-themed 'The Joshua Tree' album.
March 9, 2007, Brad Delp, front man for Boston, committed suicide by carbon monoxide poisoning in at his home in New Hampshire.
// Video via mrsnoo86 on YouTube //
---