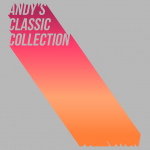 Songs of Time Collection
It's about time!! This week we'll look at the best classic rock songs with the theme of time, considering the recent time change for daylight saving time.
Pink Floyd's "Time" is a classic regarding time with the beginning of the track featuring clock sounds which was the engineering idea and achievement of Alan Parsons.
You can't think of time in music without the resonating lyrics of The Byrds' "Turn, Turn. Turn".  Also, the "tick tock" and lyrics in Steve Miller Band's "Fly Like An Eagle" just keeps on reminding us that time is indeed "slippin' into the future".
Then there's the epic "Time Has Come Today" by The Chambers Brothers.  Any song featuring a cow bell or percussion to replicate a clock sound is alright with me and this one along with a few others does exactly that.
Take some time and enjoy this week's list.
---