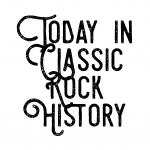 May 16, 1969, Pete Townshend of The Who spent a night in jail after assaulting a police officer. A fire broke out next door to the venue, leading a plainclothes officer to get on stage to warn the audience. Pete kicked him off stage.
May 16, 1970, Crosby Stills Nash & Young earned the No.1 spot on the album chart with 'Deja Vu'.
May 16, 1974, Brian May of Queen collapsed in New York while the band on tour.
May 16, 1976, The Rolling Stones went to No.1 with 'Black And Blue'. It was the first studio album released with Ronnie Wood as the replacement for Mick Taylor.
May 16, 1982, Asia went to No.1 with their self-titled album. It became the best-selling album in the US for that year.
// Video via Stephen McElvain on YouTube //
---