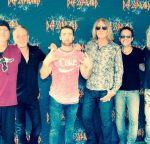 Ricky Aaron 3p – 9p
I was born and raised in Birmingham, AL and, besides moving here and there for short periods of time, I've been here all my life!  What do I enjoy doing the most?  Well, spending time with my son Jack is a go-to, playing instruments is always fun (despite being mediocre at best), working out reluctantly, and collecting records before it became cool again!
I'm an '80s junkie, sometimes more often than I should be.  My guilty pleasure '80s movie and band is Little Shop of Horrors and The Smiths.  I don't really believe those are guilty pleasures, but other people laugh when I say that, so whatever…
Be sure to tune in daily for the '80s at 8 and the Classic Rock Top 5, as well as Vinyl Selection every Saturday at 8pm!
---