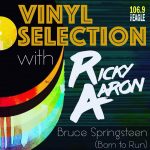 Vinyl Selection: 'Born to Run' by Bruce Springsteen
This third album in 1975 was a crucial one for Springsteen.  With disappointing sales on his first two records, 'Greetings from Asbury Park, N.J.' and 'The Wild, the Innocent & the E Street Shuffle', Bruce needed his breakthrough.  New management at Columbia Records needed convincing, poor studio conditions needed updating, and the E Street Band needed to fill some empty slots midway through the recording process.  The final product, however, would go on to rank among the greatest albums of all time.
Listen as Ricky Aaron takes you through the entire record and the making of in this week's Vinyl Selection!
//Vinyl Selection Logo via @_kevinjones22 on Instagram
---