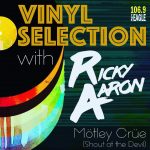 Vinyl Selection: 'Shout at the Devil' by Mötley Crüe
Mötley Crüe's sophomore album in 1983 was written at a pivotal time for the band.  The first album was produced under their own record label and this second attempt connected them to powerhouse names in Tom Werman and Elektra Records, both of whom planned to capitalize on the aggressive LA "nature" of the group that seemed to connect with '80s youth at a time when other bands could not.
Crüe began working on the record in the Spring of '83.  With little experience in a state-of-the-art studio going into the recording process, they now had  the ability to work on aspects of each track with more precision.  They became perfectionists.
The album released in July of '83 and within half a year, it had gone gold.  Vince Neil said "I can't say I think it's the best album we ever put out, but it was definitely a record for its time. When we finished it, we were all really proud of what we had done and I think the songs had stood the test of time, which pretty much says it all." (Loudwire.com)
Listen as Ricky Aaron takes you through the entire record and the making of in this week's Vinyl Selection!
//Vinyl Selection Logo via @_kevinjones22 on Instagram
---