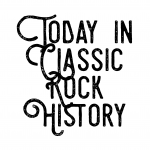 March 13, 1965, Eric Clapton quit The Yardbirds over differences in which direction he wanted to take the band.
March 13, 1966, Pink Floyd appeared for the first time at The The Marquee Club in London.
March 13, 1980, Pink Floyd's "The Wall" went Platinum shortly after hitting the No. 1 spot on the charts for fifteen weeks.
March 13, 1987, Bob Seger received a star on the Hollywood Walk of Fame.
March 13, 2006, The Sex Pistols refused to attend their own induction into the Rock and Roll Hall of Fame.
// Video via Rock & Roll Hall of Fame on YouTube //
---