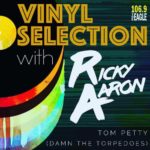 Vinyl Selection: 'Damn the Torpedoes' by Tom Petty and the Heartbreakers
By 1979, Tom Petty and his four Heartbreakers would finally have their breakthrough with the third album, 'Damn the Torpedoes'.  However, it would not go without challenge.  In order to break a binding contract with his current label, Petty was forced to file a Chapter 11 bankruptcy.  Soon after, the album was released on October 19, 1979, just one day before his 29th birthday.
Full of radio hits and live staples for decades, and successfully fusing pop with rock and country, the record became a cornerstone of genre-meshing albums and would lay the foundation for Tom Petty's catalogue to come.
Join Ricky Aaron as he guides you through the album, from the opening rocker of 'Refugee' to the twang inspired 'Louisiana Rain' for this week's Vinyl Selection!
//Vinyl Selection Logo via @_kevinjones22 on Instagram//