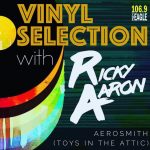 Vinyl Selection: 'Toys in the Attic' by Aerosmith
Aerosmith had made a name for themselves with rock audiences by the time they started recording this third album in early 1975.  Their self-titled debut and follow up album 'Get Your Wings' had each done fairly well, but it was the 'Toys in the Attic' record that would really push their status to the top.
With the majority of 1974 spent touring, the group was under heavy pressure to produce and deliver new material.  But with extensive touring came a lot of practice on new songs.  Guitarist Joe Perry said in an interview with Ultimate Guitar that "we had an idea of what songs were working for us live at that point, and so we kind of had an idea of what direction we wanted the songs to go in."
'Toys in the Attic' would release in April of 1975 and race towards the Top 10 on the charts, spawning hit singles like "Walk This Way" and "Sweet Emotion".
Join Ricky Aaron as he guides you through the album, from the title track to the incredible closer "You See Me Crying"  for this week's Vinyl Selection!
//Vinyl Selection Logo via @_kevinjones22 on Instagram//
---