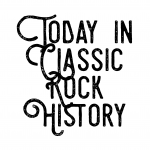 April 11, 1970, The Beatles began a two week run at No.1 on the singles charts with 'Let It Be'.
April 11, 1977, Alice Cooper performed in front of 40,000 people in Sydney, Australia, the largest crowd to attend a rock concert in the country's history at the time.
April 11, 1981, Eddie Van Halen married actress Valerie Bertinelli.  The two had met less than a year prior when Bertinelli attended a Van Halen concert in Louisiana.
April 11, 2014, Nirvana and KISS were enlisted to the Rock and Roll Hall of Fame.
April 11, 2017, J. Geils of the J. Geils Band died at age 71.
// Video via rocknrollattic on YouTube //
---