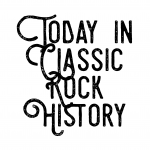 April 12, 1967, Mick Jagger was punched in the face by an airport official in France. The band was being searched for drugs, which led them miss their flight.
April 12, 1975, David Bowie announced his retirement during an interview with Playboy Magazine.
April 12, 1975, Elton John led the charts with "Philadelphia Freedom".
April 12, 2016, Led Zeppelin's Robert Plant and Jimmy Page were ordered to face a copyright trial over 'Stairway to Heaven'.
// Video via alwaysblistening on Youtube //
---