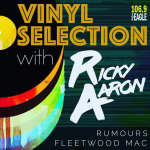 Vinyl Selection: 'Rumours' by Fleetwood Mac
Fleetwood Mac released 'Rumours' in 1977.   It was a perfect storm of an album, each song showcasing aspects of love and lust, as well as betrayal and heartache.
The album would come to fruition within three months, which in comparison to future albums, was incredibly fast paced.  What's even more remarkable is the relationships happening behind the scenes.  Stevie Nicks and Lindsey Buckingham were splitting (evident in the middle-finger from Lindsey to Stevie that was "Go Your Own Way"", Christine was seeing the lighting director while in the midst of divorcing fellow band mate and husband John McVie.  Not to mention an eventual affair between Mick Fleetwood and Stevie Nicks.
The agony among the band would result in one of the greatest albums of all time.
Join Ricky Aaron as he guides you through that album for this week's Vinyl Selection!
//Vinyl Selection Logo via @_kevinjones22 on Instagram //
---