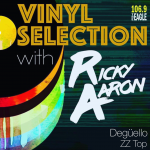 Vinyl Selection: 'Degüello' by ZZ Top
Following an extended break, the little ol' band from Texas got back together just shy of the '80s to put out their sixth studio album.  Lending it's name from the Mexican Army call at the Battle of the Alamo, this album signaled a new start for ZZ Top, having just signed with Warner Bros. Records.
Coming of the heels of three years of touring, the trio was ready to transition into the new decade with a new sound, but maintaining the twang-funk-blues fusion that fans had been accustomed to for the last ten years since the groups formation.
From the Sam & Dave cover of "I Thank You" to the groovy climax of "Cheap Sunglasses", join Ricky Aaron as he guides you through Degüello for this week's Vinyl Selection!
//Vinyl Selection Logo via @_kevinjones22 on Instagram //
---