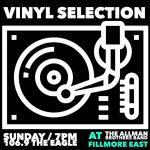 Vinyl Selection: 'At Fillmore East' by The Allman Brothers Band
By the early 70s, the Allman Brothers Band, led by brother's Duane and Gregg Allman, had become one of the greatest live bands of a generation whether people knew it at the time or not.  Commercially, however, they were struggling to make a breakthrough.  Their first two albums, The Allman Brothers Band in 1969 and Idlewild South in 1970, were well received by fans, but it was this third album would push them to the top.
The group was constantly touring and various members were struggling with substance abuse problems.  This third album was make or break, with even Duane Allman considering quitting the band to join Eric Clapton on his new project, Derek and the Dominos.
Ultimately, they decided to record a live album in 1971…
Over the course of four shows in three nights at the Fillmore East in New York City, the Allman Brothers Band recorded At Fillmore East.  It was the best decision the band could have made.  Composed of four blues covers and three original songs, the double LP has since been heralded as one of the greatest recordings of all time.
From "Statesboro Blues" to "Whipping Post", join Ricky Aaron as he covers the entire album for this week's Vinyl Selection
---